HONORING THE COMMITMENT
Back to News
SKILLED PROFESSIONS SIGNING DAY RECOGNIZES CHEROKEE COUNTY HIGH SCHOOL SENIORS
CHEROKEE COUNTY, GA (May 16, 2023) – Be Pro Be Proud Georgia, a comprehensive initiative that connects students to post-secondary training and careers within the skilled professions, continued its mission this year by hosting the Skilled Professions Signing Day at The Circuit Woodstock on May 9, 2023. This event, which brought together Be Pro Be Proud Georgia, the Cherokee Office of Economic Development [COED], the Cherokee County School District, and Chattahoochee Technical College, aimed to honor and celebrate the commitment of high school seniors in pursuing skilled professions.
Stressing the importance of skilled professions, COED President Misti Martin said, "With our skilled workers aging fast, the need for these skill sets is increasing, and there's no better time to celebrate students entering these high-demand careers. With them making this very important decision, we take a step forward in closing the skills gap in Georgia."
Following the model of national signing days for athletes, the event recognized the achievements of 36 high school seniors from all six Cherokee high schools who have chosen to pursue one of Be Pro Be Proud Georgia's 15 skilled professions, including Automotive, Computer Programming, Construction, Electrical, Plumbing, Health Care, HVACR, Linework, Commercial Truck Driving, Advanced Manufacturing, and Welding.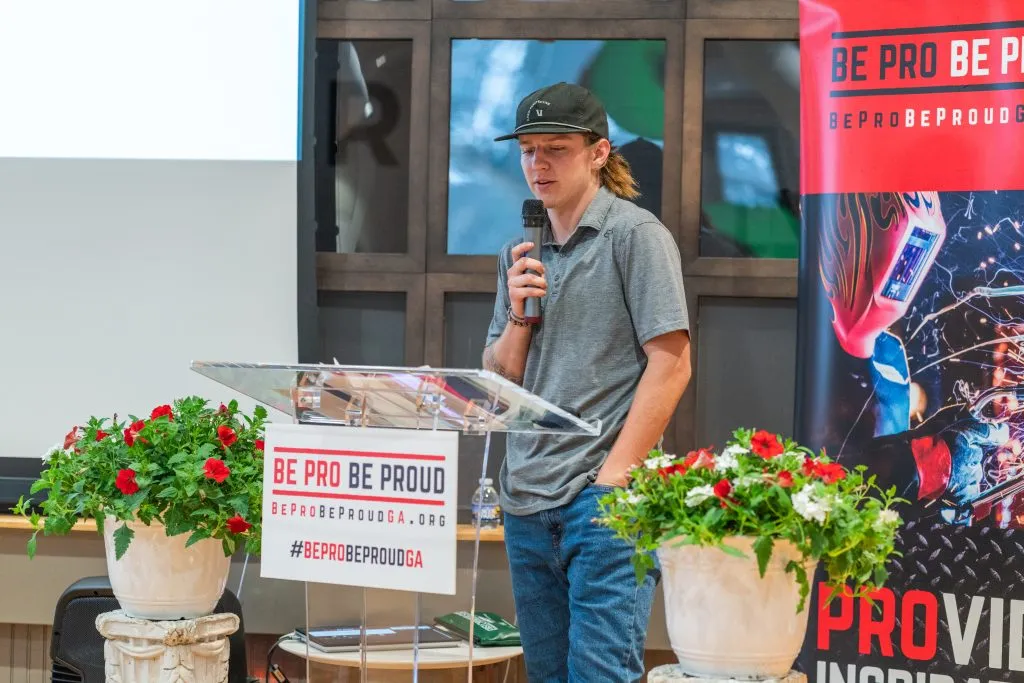 Kaiden Luther, a previous honoree of the 2022 Signing Day, returned to the event this year to inspire and motivate the 2023 honorees.
After graduating from Cherokee High School, Luther pursued his passion for welding and successfully established himself as a fabricator at 380 Industries. He shared, "When you work in one of the trades, not only will you have a lot of fun – you'll be making a lot of money." Luther's personal journey strongly resonated with the core message of Be Pro Be Proud Georgia, highlighting the undeniable truth that, "on top of earning all that money, you'll never have to worry about not having a job."
"We enjoyed every minute of the event! It was great to see so many students from the county committing to the trades! It makes my momma heart happy," expressed Staci Culberg, a proud mother of one of the honorees.
Kristin Caudell, the Executive Director of Strategic Community Development at Wellstar and a valued partner of Be Pro Be Proud Georgia, extended heartfelt congratulations to the students for finding their purpose and claiming their commitment to choosing a career path in the skilled trades. She also took the opportunity to congratulate the students on their upcoming graduation.Dr. Brian V. Hightower, Superintendent of Schools for the Cherokee County School District, also congratulated the students and presented Misti Martin with the Superintendent's 2023 Game Changer Award. This accolade recognized Martin for her outstanding instructional advocacy and exceptional leadership in driving the success of the Be Pro Be Proud Georgia program, which has empowered students in Cherokee County to pursue fulfilling careers in the skilled trades.
Since its launch, Be Pro Be Proud has made significant progress, reaching over 43,000 students and facilitating more than 380 tour visits across the state of Georgia.
To learn more about Be Pro Be Proud Georgia, to partner with this statewide initiative, or to watch the live stream from the 2023 Skilled Professions Signing Day program, please visit BeProBeProudGA.org.
Source: Enjoy Cherokee